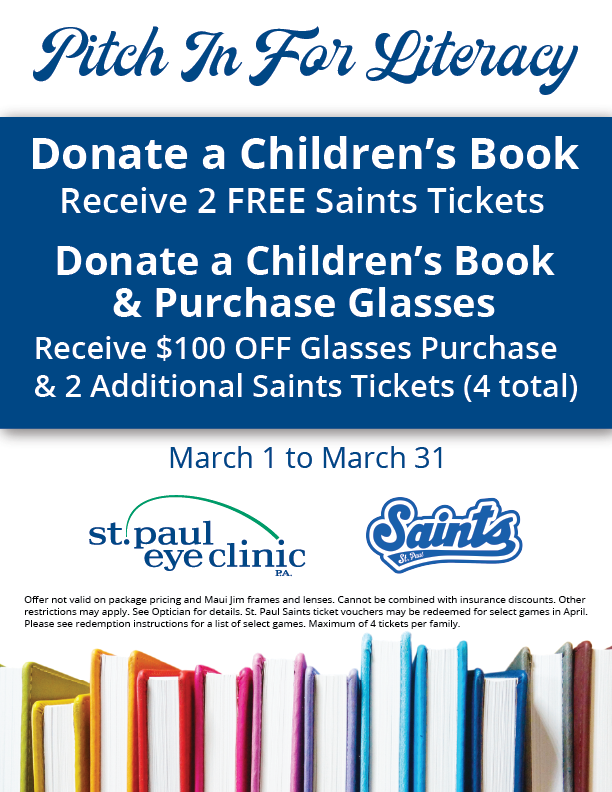 Are you ready to make a difference in the lives of young readers? From March 1 to March 31, St. Paul Eye Clinic is partnering with the St. Paul Saints to promote literacy and learning in our community.
Here's how you can participate: Simply drop off a children's book at any St. Paul Eye Clinic location, and you'll receive a voucher for 2 free tickets to a select St. Paul Saints game. Plus, if you drop off a children's book and purchase glasses, you'll receive $100 off your glasses purchase and get 2 additional (that's 4 total!) Saints tickets.
Not only will you be helping to promote literacy, but you'll also be saving on glasses and getting to enjoy a fun day at the ballpark. It's a win-win-win!
To find your nearest St. Paul Eye Clinic location, just click the link below:
https://stpauleye.com/locations
Select Redeemable Games
Wednesday, April 5
Thursday, April 6
Friday, April 7
Saturday, April 8
Sunday, April 9
Tuesday, April 18
Wednesday, April 19
Thursday, April 20
Offer not valid on package pricing and Maui Jim frames and lenses. Cannot be combined with insurance discounts. Other restrictions may apply. See Optician for details. St. Paul Saints ticket vouchers may be redeemed for select games in April. Please see redemption instructions for a list of select games. Maximum of 4 tickets per family.